Have a Disney FROZEN Party for your Sewing Students… and Their Friends!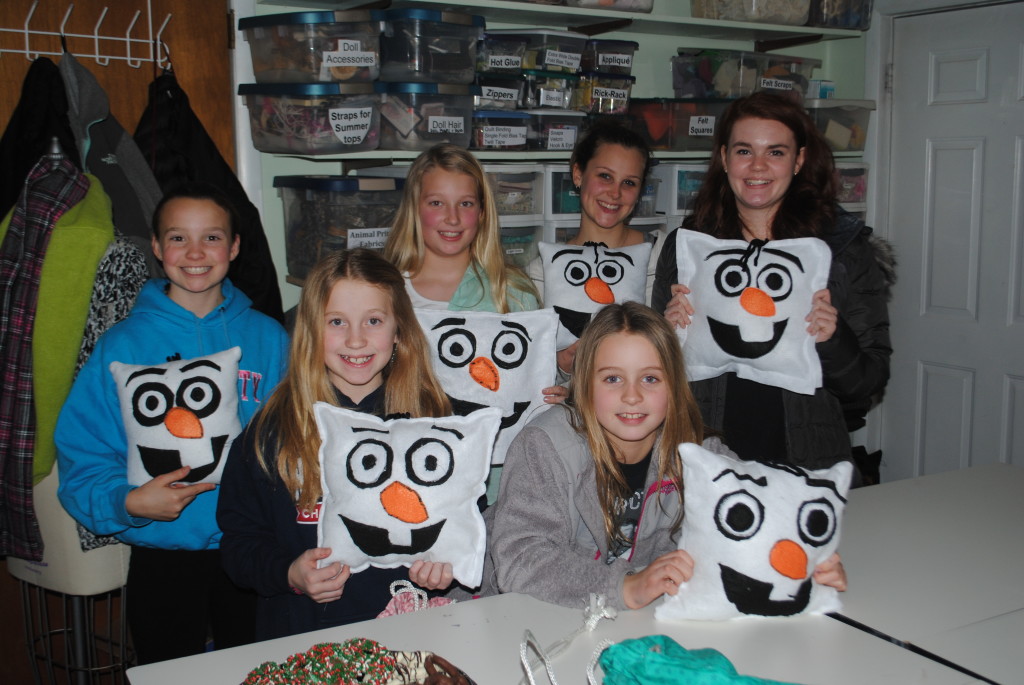 Don't let this workshop go! (Get it? "Let It Go") With the popularity of Disney's movie FROZEN, this workshop was a huge success in our studio this year, and we held several of them. We created this adorable square face Olaf pillow from felt fabrics as our main craft for the FROZEN party. It is simple to sew with either straight stitch or zig-zag stitch around each of the face pieces. Then add the happy snowman's little pieces of hair and stitch around the square.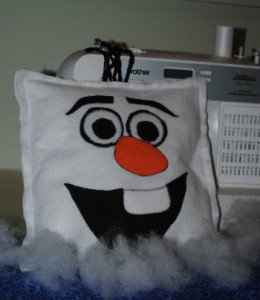 You can find the full step-by-step instructions on how to make our Olaf pillow here at our sister site: http://www.lovetosew.com/feltfaceolaf.htm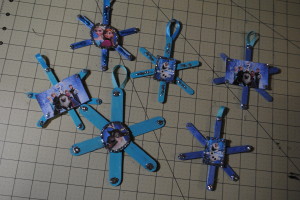 We also created these pretty blue glitter snowflakes with Anna, Elsa, Kristoff, and other Frozen characters for an easy to make craft that any level student could make. It's colorful, glittery, and fun to create!
Since some of the crafts for this workshop did not require sewing skills, we allowed students to bring their friends to the workshop. This was a great way to introduce both crafting and sewing to new students and show them our studio and how fun it is to learn to sew.
We set up the studio into three different stations. The first station was the sewing area where the students could do all the cutting and sewing to make the Happy Snowman Olaf Pillow. The second station was the painting station where students could make the rest of the "FROZEN" crafts. This station was far away from sewing station so that no paints would get on the sewing projects. And the third station was the hot-glue station where the students could do all of the gluing for the crafts. Many of our workshops require our hot-glue to be set at the "high/hot" setting. When doing so, only our instructors may use the hot-glue gun. But for this workshop we set the hot-glue gun at the cool setting and allowed our students 10 and up to do their own gluing.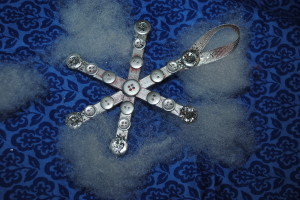 Another fun FROZEN craft we had our students and their friends make at this party was a silver glitter button snowflake craft. Simply glue three popsicle sticks into the shape of a snowflake, then glue buttons on, and last paint silver and add glitter.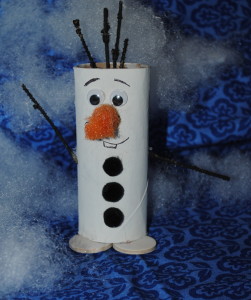 Using empty toilet paper rolls, paint, and some supplies from our studio students also made our toilet paper roll Happy Snowman Olaf standing craft.