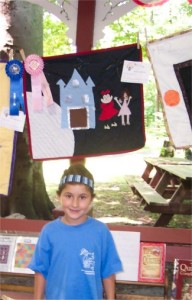 Hosting a quilt show can be quite fun. First, you have to have quilts that your students made to show everyone. Our first show we had 17 quilts on display that were made by students, and 20 that were made by myself or friends of mine. If at all possible, have your quilt show inside.  You will want to protect the quilts that everyone worked so hard on.  I advertise my quilt shows on my site, in local newspapers, and by sending flyers to everyone on my mailing list. Since I did my article in story form saying that children made the quilts and received awards for them, the newspapers did not charge me a penny.
When people travel to a quilt show they are coming to see quilts.  However, you will want to add more things for them to do and to keep them busy and excited.  We had nice rosette awards for everyone who entered a quilt. They were displayed nicely on their quilt. Everyone received an award.  Judging was done one hour before the quilt show opened.  Awards like judges choice, visual impact, 1st, 2nd , and 3rd, were handed out.  A big President's Choice Award was given to the best quilt picked by the president of the club.  To get the public involved, upon arrival, everyone received one ballot to vote on "Viewer's Choice" award for their favorite quilt.
If there's a group of people together for an event, then you have to have food involved. Have someone take over in the snack and food area.  If you are predicting a very large crowd think about having it catered.  If not, chips, sodas, cupcakes, hot dogs, etc. for sale are a great starter.
We also had a drawing for a big basket of fabric that we made up.  We even had a "learn to sew" area where we picked a simple craft and taught children to sew, 6 more students came to my sewing school with that. We also had a fun "quilt trivia" game. Many elderly came to our quilt shows. They were curious that kids made quilts, and just had to come see them! I mentioned in the newspaper that we were hosting a "Quilts made by Kids" show.  The public eye was impressed by this, and that is why we had such a great turn out of all ages from four different surrounding states. Don't forget to invite your local newspapers.  If they can't make it, then take photos yourself, and send in an article about how your show went.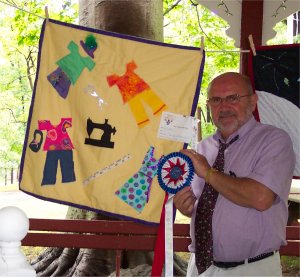 Having a quilt show is a great way to "show off" your students' work, promote your sewing school, and just have a fun family day for your students.