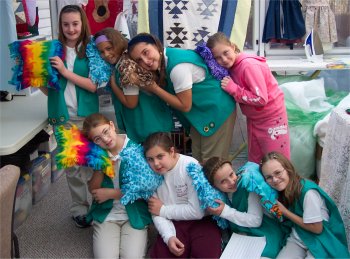 Teach Girls to Sew to Earn Their Sewing Badge.
I have had many requests to help Brownie and Girl Scout troops earn their sewing badges.  This is where I get many students who just fell in love with sewing and wanted to come to either classes or summer sewing camps.
When hosting a troop who is earning their badges, I have everyone make the same project.  I usually pick very easy projects since I am limited for time and space.  We may do a project like a windsock, a fleece fringe pillow, or a four-square pillow for the younger girls. For the older students sewing projects that are a little more difficult and involved to make might be something like a colorful ribbon pillow, or something trendy that they can use like a lined bag.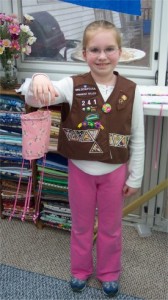 I will usually take no more than 12 students, and I make sure I have at least 2 helpers. I do not charge much for this class and usually make no money on it.  That is a personal decision for me, because I used to be a Brownie and I think it is such a wonderful experience and I know they have a tight budget they need to work with.  It is up to you on what you want to charge.
You will not be providing the actual badge, you can not get them unless you are a leader. That is the job of the girl scout leader to order the actual badges. You will be teaching the girls certain skills and have them make a project so they can earn their badge. You do not have to teach them everything on the list, you would never have enough time. But you are required to teach/show at least 7 of the things on the list here: (This is a very old list-2007) I do not have access to an updated manual. Once again, you can get that from the girl scout leader.
1. How to do some hand-sewing stitches (running stitch, hemming stitch, slipstitch, catch stitch)
2. How to do some basic machine stitches
3. Decorating a pair of socks with lace or embroidery
4. Basic programming of decorative stitches on a computer sewing machine
5. How to pick a pattern (number of pattern pieces, what notions you need, recommended fabrics, how much fabric you need
6. How to measure yourself to find the right pattern size
7. Sew a service project
8. Make cancer caps for charity
9. Learn about different fabric types, widths, textures, etc
10. Sew a puppet
The leader of the troop should have the girl scout manual to show you the page with the requirements. I make sure everything is ready beforehand because once the girls arrive; they are excited and want to get started right away. At the end they each get a sewing ribbon award from my studio, and a copy of either my summer camp brochure or my winter brochure. MANY new students join our classes because they had a fun and rewarding experience at the Girls Scouts or Brownies workshop.