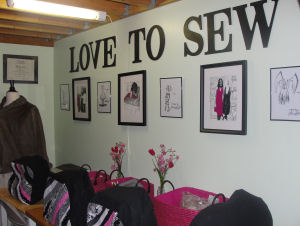 Finding the right "area" for your sewing school can be challenging.  Keep these things in mind when deciding on where to teach.  When I first began, it was a corner area in my family den.  This area was for my sewing school ONLY.  Set this rule and keep it!!!! You don't want to have to be moving tables and sewing machines, and ironing boards around.  Make sure, if the area is in your home, that ALL of your family understands that this is your area, this is your job. Make sure that your room is big enough for at least one 6-8 foot cutting table, all your supplies, a table with the

 on them, and an ironing board.
If you don't have the room in your home, check with your local churches, or schools.  In most cases they will be thrilled to let you do an after school sewing program.  Try and find a room in the church or school where you can keep your supplies, even if it is in a locker of some sort, you don't want to have to take your entire school home with you and then bring it back again.  I did this for a brownie troop, and a birthday party/modeling party, I charged extra for bringing ALL of my machines, supplies, and everything with me, and I can honestly say that I will NEVER do it again.  It was just too much carting all the supplies and machines back and forth. Even though I had two helpers both times, it was still too much.
So best case, you have your sewing school in your home, or in a room in a local church or school, where you can keep your supplies and things there.  If neither of these work out for you and you must cart your things each time, then I highly suggest that you have your classes on the same day.  So instead of having classes Monday thru Friday, everyday at 4pm, where you would have to cart your things every day, I would suggest that you have classes 2 days a week but on both days have a class at 4pm, then 5pm, then 7pm etc… so that you are only carting your things 2 days a week.