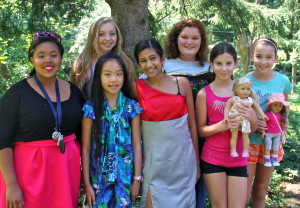 My first summer doing the summer sewing camps I had 186 spots open.  I did not pay one penny for advertisement, and filled every spot.  I designed a cute little tri-fold brochure from my computer and made the photocopies at home on my printer.  The information I put in the brochure was: the dates, times, cost, and a brief note on what to expect to learn, and what they could make. I had no money to pay for an ad in a newspaper or magazine, and certainly no money to pay someone to do my brochure, so I quickly learned about WORD and POWERPOINT.
I asked my children's dance school, karate studio, gymnastics center, archery school, their public school that they attend, and my church, if I could put some of my brochures in their lobbies. EVERYONE said yes.  In fact, after the 1st night, the gymnastics studio called and said to bring 20 more because they were all gone.  This is how I filled my classes.  Once one person heard about it, the word spread very quickly.
I took a picture of my 1st class with the students at the machines, (similar to the photo above) and I sent it to the local newspaper with a paragraph that I wrote talking about my new sewing school.   Most newspapers will happily put this type of article in their newspaper at no cost. (A Free Advertisement!!!).
But the BIGGEST form of FREE ADVERTISEMENT you will receive is a kind word of mouth from one person to another!!! Once parents and kids see what your studio is like and what they can make, word will get around and your classes will begin to fill up.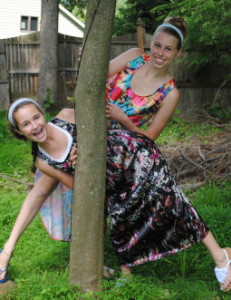 In all the years of teaching the only money I put towards advertising was $40.00 because my daughter was in the spring musical at her school and the parents had to either pay the money or put a business card size ad in the program.  I said what the heck; I might as well put an ad in since I have to pay anyway.  That is the only time I put money out for advertising for my sewing studio.
I can not stress enough to check with the local sports areas, dance, gymnastics, and karate centers, etc… These are the places where parents and kids hang out, and parents are always looking for something different for their kids to do. What better activity then sewing – getting back to the basics.  This is how I began.  I only had to do this my first year.  After that, people called me to ask for sewing lessons.
Another form of free advertisement is to send a write up and a photo to the local newspaper.  Just talk about how your school will be opening up and what you will offer.  MOST newspapers will put it in for free.  I actually had a lady at a newspaper call me and ask me for more photos and to keep sending things because they don't get things like that very often. She wanted the paper she worked for to have my articles and photos in it. Each time I sent an article and photo to any of my local newspapers, they printed it. Make sure that you make your article sound like an article or story and not like an ad.  Also, each time my students won or placed in a sewing or quilting contest or competition, I sent a photo and a write up to the newspaper.



I also send my students' photos with their new quilt or outfit they made to the newspapers with a write up that I did.  I always end the write up with,"For more information please call …" with my phone number.  My write ups and photos were ALWAYS in the paper, never once was I turned down.  Students love to see themselves in the newspaper.  MAKE SURE YOU GET WRITTEN PERMISSION FROM THE PARENTS FIRST. This type of write up is called a "Press Release."  There are many other ways to advertise like putting up a sign saying, "Sewing Lessons Given, First lesson free"… etc.  In all honesty, I have never given a free lesson yet, and never had to use a sign like that. But I put in the suggestion anyway if you want to use it.  I shared with you the best ways that gave me many new students in the past. With today's social media there are many other ways to share your studio's information. Today it easier than ever to put together a five page website informing the world (and your town when they do a search) of your new studio. There are also social media areas you can try like; Twitter, Facebook, Pinterest, and Instagram, and many more. Take advantage of all of these free social media areas to help your sewing studio grow!