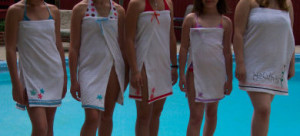 Hosting a sewing birthday party is fun. I either make a gift for the birthday girl, or she gets a sewing notepad, T-shirt, or sewing kit as a gift.  You can either have them bring in cupcakes or a cake and do the whole birthday party with you, or, just do the sewing with you and the cake part is done at her house.
Another option is, too incorporate the cupcakes with the sewing project they are making.  Example; you could buy our very easy sewing kit, "Fur Happy Face" pillow, and have cupcakes with a happy face on it.



Everyone in the party should make the same gift.  Most students have never sewn before so it should be something simple like a windsock or pillow. Each student, when they have completed their project, gets an award and a schedule or brochure for my sewing classes. This has been very successful for me and it is a type of party you will not see anywhere else-so it is on high demand. I have received many phone calls from parents wanting to sign their kids up for classes after the party!