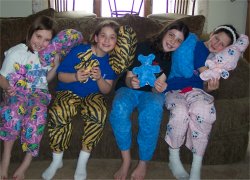 My students actually gave me this idea! They love to sew so much that they begged me to have a sleep over party.  I kept saying no for two years and finally gave in.  We had a blast!!!!  Since it was a sleep-over sewing party, the girls made pajama pants, a matching pillow, and even a matching Teddy Bear made of the same soft flannel PJ fabric.
This party was only offered to my established students. They arrived at 6pm for pizza, then sewing until 10pm, then we watched a movie.  It was "Annie" because the girls were sewing during the "Hard Knock Life" scene, then we had lights out.  The next day we had rise and shine at 8am, breakfast, then sewing until 10am when the parents picked them up.  I made up a waiver for the parents to sign saying that it was okay for their child to sleep over at sewing camp.



Everyone brought their own sleeping bag and pillow. For breakfast I served cereal, mini donuts, OJ, and fresh fruit. My 17 year old daughter agreed to be in charge of the actual "sleep over" part. That is something at my age that I knew I could not handle.
What I dreaded doing, ended up being a great success and a lot of fun.