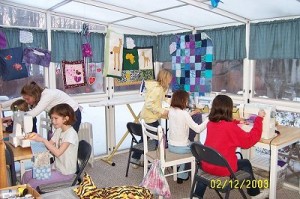 I'm sure you are wondering, "Can I do this?  Do I know how to sew good enough?  Will I like it? Will the children enjoy it?"  If you are a little skeptical, that's okay.  So was I!  In fact, when people would ask me what I do, I would shyly say, "I teach kids to sew."  The excited response I got each time was overwhelming to me.  Now I proudly and boldly answer that question.
Each new student, each compliment from a parent, and each time I saw a child sew something awesome that I taught them to do, gave me the confidence and self esteem that I needed as a sewing instructor.
Was it scary for me at first?  Sure was…but I wouldn't trade it for any job now.  Where else can you make $50. – $80. an hour, on your time, at your convenience, doing what you love?
Unlike other learn to teach sewing places where they go on and on about how you should join their franchise, or buy their patterns and their kits only, I simply want to share with you my best ways to make your sewing studio a fun place where kids love to sew!  I want to help you succeed!
Best of luck to you in opening your new sewing studio and I hope you too will find the joy in teaching others to sew like I did!
Best Stitches,
Judi