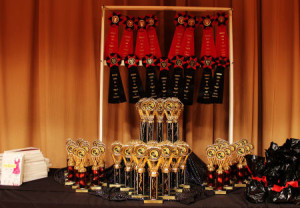 Hosting a Fashion show, in general, is similar to hosting a quilt show. Offering a Fashion Show for your students is very exciting for students as well as parents. Students feel they are accomplishing two things: being a fashion designer, and a model!!! Let students who made hats, coats, and purses model them too. After all, that is part of Fashion. We encourage all of our students to show their work in a Fashion Show.  Students can model an outfit they made for themselves and walk down the runway.  We also allowed students who made an outfit for their pet to show that in the Fashion Show. We gave every student the option of showing a "line" that they designed and made. Students could not only design an outfit for themselves, but their friends could be their models in other outfits they made.  This brought in many more spectators at the Fashion Show because the friends who were modeling the clothes, well, their family members and friends wanted to come see them.  We allowed each student to show no more then a line of 8 outfits they made. We ran it just like Fashion Week in New York City at Bryant Park is run.  The designers came out, were introduced, got to say a few words, showed their line with the music they chose playing in the background, and they walked out with all the models at the end.  If you haven't seen this on TV yet, I highly suggest you do so, to have a good idea of how to run a Fashion Show.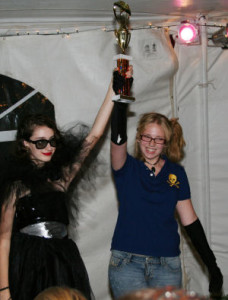 You will want to make sure that the building or outside area you chose to host your Fashion Show has a walk way or run way.  Have music playing in the back ground and a host or hostess who announces the students as they walk down the run way.  Perhaps the announcer could give a little back ground about the student and the garment that is being modeled. If a student is showing a line in which they were inspired by the movie "Pride and Prejudice", classical music from that era would compliment the line and models nicely.  If a student is showing a Fashion Forward line with today's styles maybe "Vogue" or "Glamorous" would be the best music to show her line with.
Of course you will want to offer food and snacks for sale, or ask parents to bring some in and have a food area for free to your guests.
Have a table set up with your brochures, information, and some samples of projects other kids can make.  Maybe, include a pattern or two for display.  Make sure someone who is very knowledgeable of your sewing school is at the table to answers questions at all times. Perhaps have some of your students' portfolios on the table also.  If you make up a program for your show, make sure you include a thank you to the local studios who allowed you to put your flyers in their studio, and tell them you are going to do so.  To keep in good business with them, after the show, mail them a copy of your program showing that you did so, along with a thank you note.
Contact fashion magazines and local fabric stores asking for door prizes.  You could also purchase some fashion design books and give them as door prizes.  Make sure you have tickets to hand everyone for their chance at the door prizes.  If you host a quilt or fashion show, Crafts of Chadds Ford/Love to Sew will be happy to donate a door prize to your school.
Whether or not you charge an entrance fee is completely up to you.  I personally would not charge one, unless the place where I am holding the show costs a lot of money for rent.  If you do need to charge one, keep it at a very minimal fee ($2.00 or $3.00 per person.)
Advertising for your Fashion show should be at minimum cost, if any at all.  Make up flyers and post them around.  Ask your local dance center, gymnastics club, or karate place if they wouldn't mind keeping them at the front desk.  Offer to have their brochures on a table at your Fashion Show. Whenever I host any kind of "show" I make up flyers and hand them out to each and every student.  One week I will give each student 4 flyers and say, "You must give these to someone other then a family member."  Then the following week I give each student 8 more and say the same thing. I also make up posters and post them in places. Whether for my sewing school or my church, this is how I "advertise", flyers to hand out, posters to post up, and newspapers to contact so they will run a story.  ALWAYS add a photo for the newspapers.  It is a proven fact that a photograph is what catches one's eye.  Once again the newspapers will do this for FREE if you word it correctly.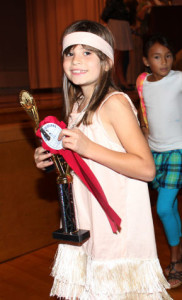 Be careful in your estimating if you do have to rent a place for your show. Last year as big and successful as our show was, I took a huge loss because I did not estimate correctly the cost for the spectators to come see the show. (It was held at a place at no charge the two years before that.) Also make sure you charge your designers a fee to enter the show if you are giving trophies or awards. You do not want to take a loss for all the work it takes to put on a successful show. I treat our annual fashion show like an "end of the year dance recital." This is the big event the designers have been working towards all year, and parents have been waiting for all year.
Update on hosting a fashion show: (10/2011) Our annual fall fashion show is by far our biggest and most successful event of the year. We just hosted our third one. We have it every fall so that our summer camp students can participate in it as well as our students who sew with us weekly all year. Each year this event grows bigger, and with that comes more responsibility on my end to host a successful show. Our past show has grown to over 400 in audience, 54 designers, almost 200 models, 25 workers, and 15 parents volunteers. For fall 2012 we have had to move the location again because we have outgrown the old one. Now we are renting the grand ballroom at a Hilton hotel and hiring six industry judges. We give each designer a trophy and have many additional awards to hand out. We also have audience participation where they can vote on their favorite looks. We now give ribbon awards to the models too; after all, they are giving up their afternoon for the designers, and should be rewarded somehow. Your students are welcome to participate in our annual fashion show as long as they meet the criteria. It has now become a regional show and other studios participate in it too.