Judi has been teaching sewing and design for over fourteen years. Previously, she created and sold seasonal crafts, quilts, and kits that have been sold throughout the US, Australia, and Europe. A self-made woman and entrepreneur, Judi started Love to Sew Studio as a small, word-of-mouth summer camp in 2001 in hopes to share her knowledge and love for the art with the next generation. Since then, her studio has grown to include daily year long classes, fashions shows, charity events, and sewing marathons. She has taught students in the thousands, some of whom have grown and left for college to study fashion. She decided to start a website as a hobby to further share her craft, which quickly evolved into a well-ranked thousand page information site about sewing (www.lovetosew.com). In addition, Judi has been published in magazines Sew News, Sew Simple, Irish Quilting, and Mom's, as well as received multiple newspaper coverage of various charity events and shows she has hosted. She has a certificate in Dress Making and Design from Thomson Education, and one in Sewing & Dress Making from Stratford Institute.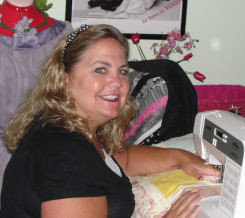 With so many people asking her questions and advise on how she became so successful so quickly opening her sewing studio, eight years ago she developed a "Sewing Teacher's Starter Kit" which included a self-written booklet of all her secrets and other goodies like ribbon awards, a sewing t-shirt, notepad, sewing kits, and more. The kit sold for $300.00. The kit is no longer available. Instead, she built this website to share all that information so that anyone can get the valuable information to start their own sewing studio.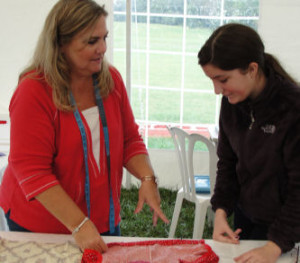 Favorite Stitch: Top Stitch… I love to top stitch and sometimes I use embroidery stitches for my top-stitching!
Favorite Project: Too Many To List! But most likely any historic costume gown I've made, that is my favorite area of sewing!
Sewing Tip: Always cut your threads! It drives me nuts to see threads hanging on a project someone worked so hard on.
How Judi began sewing:
Ironically, as a very young child I was so allergic to new fabric that I could not even be in the store when my mom shopped for her fabrics to do her sewing. I had to stay outside at the playground. I didn't mind, she always brought me out a pretzel from the store and the playground was better than my swing set in the backyard at home. Once mom washed the fabrics it was okay for me to touch them, and I was given all the scraps to make my doll some new clothes! (My friends had me make their dolls clothes too.) By age eleven I outgrew the allergies to the fabric dye and moved up to more important sewing projects like making pillows, curtains, and blankets for my bedroom, and decorations for the "girls' side" of our tree fort outside. I also made costumes for the "plays" we held for our family members who would so graciously sit through them.  By high school I was creating dolls, quilts, costumes and clothing and selling them in local craft shops and boutiques.  Not realizing how lucky I was at the time, I studied for 4 years of fashion design and sewing in my high school preparing me for college.
Shortly after that I began making crafts, children's clothes, costumes, and quilts, and selling them throughout the U.S. and Europe.  Soon I was married and had four children that I could sew for.  I LOVED making clothes and costumes for my little ones!
In 2001 I mentioned to my mom perhaps I wanted to stop selling my creations and start teaching sewing. Laughing at myself for the silly thought that anyone would want to learn to sew, after all, none of my friends knew how to sew, and pretty much everyone I knew didn't know how. I told my mom, I would be sitting around all summer but I was willing to take the risk and open a sewing studio in the corner of our family den. Thus began the start of both a new sewing studio in Chadds Ford, PA, and an informational sewing website, www.lovetosew.com,  for the world to see and learn about sewing! All three of my daughters took up sewing and enjoy it too. They are highly involved in the making of my websites, the sewing studio, and encourage and support me in all my "sewing adventures." And now we are excited to share with everyone this website www.teachotherstosew.com, so that everyone can have the same opportunity and success we had in starting their own sewing studio.